Fundraiser for the National MS Society
Virtual Goalie Coaching 2-Day Mini-Camp with Tillman Johnson 
Learn the foundation of the goalie position from one of the greats
Join the mini-camp here!
Tillman Johnson showed the lacrosse world the true power of the goalie position.
He inspired an entire generation of lacrosse goalies in the 2003 NCAA national championship tournament when he played lights out, making save after save, pumping up his team, winning the national title for Virginia and earning tournament MVP.
Suddenly middies, attackman, and D all wanted to be the goalie.
So many goalies I interviewed for my podcast mention this performance as the reason they wanted to be THE goalie.
💭 I've watched more older film of goalie play the past 3 weeks than my entire life combined...

Tillman Johnson sparked my love for this position and I remember watching him with a stick in my hands in my basement at age 10. I'm having trouble not calling him the best ever.

— Kyle Bernlohr (@kbernlohr35) April 10, 2020
In addition to being an elite goalie, Tillman Johnson is also an elite goalie coach.
He trained numerous men and women Division 1 lacrosse goaltenders including:
Nick Marrocco (Georgetown)
Tyler Blaisdell (Princeton)
Henry Buonagurio (Richmond)
Tommy Connelly (Boston University)
Jack Corbett (Harvard)
Trevor Scollins (Penn State)
Charlotte Wahle (Dartmouth)
Here's what PLL Cannon All-Star goalie and Georgetown alum Nick Marrocco had to say about getting goalie coaching from Tillman:
In fact, everyone who trains with Tillman Johnson sings his praises as a goalie coach: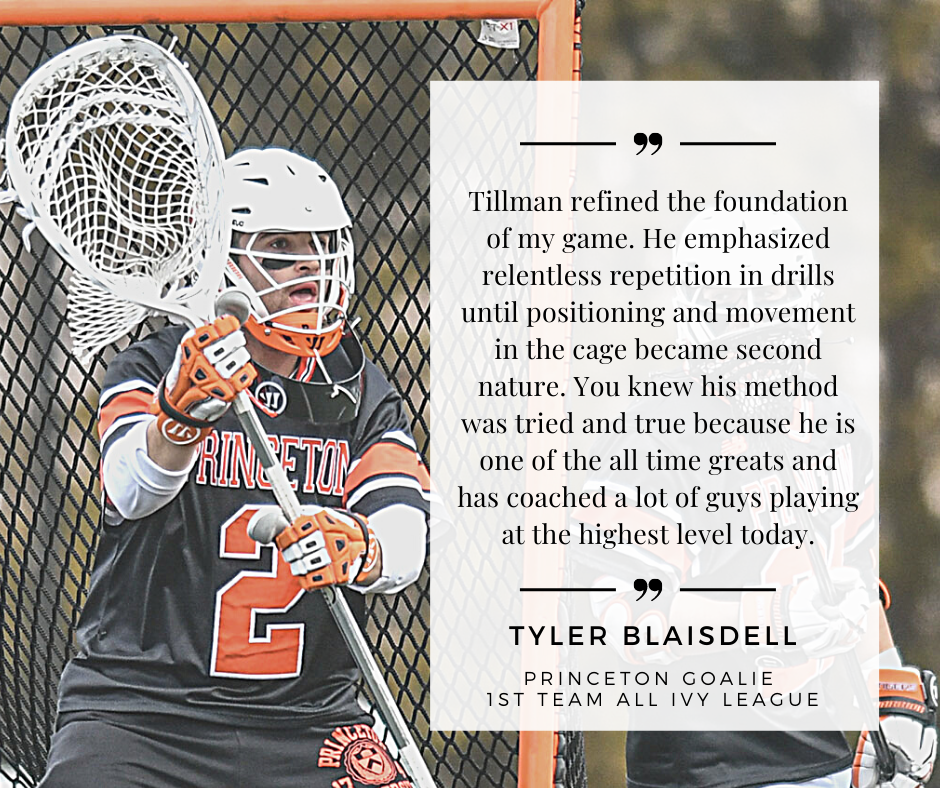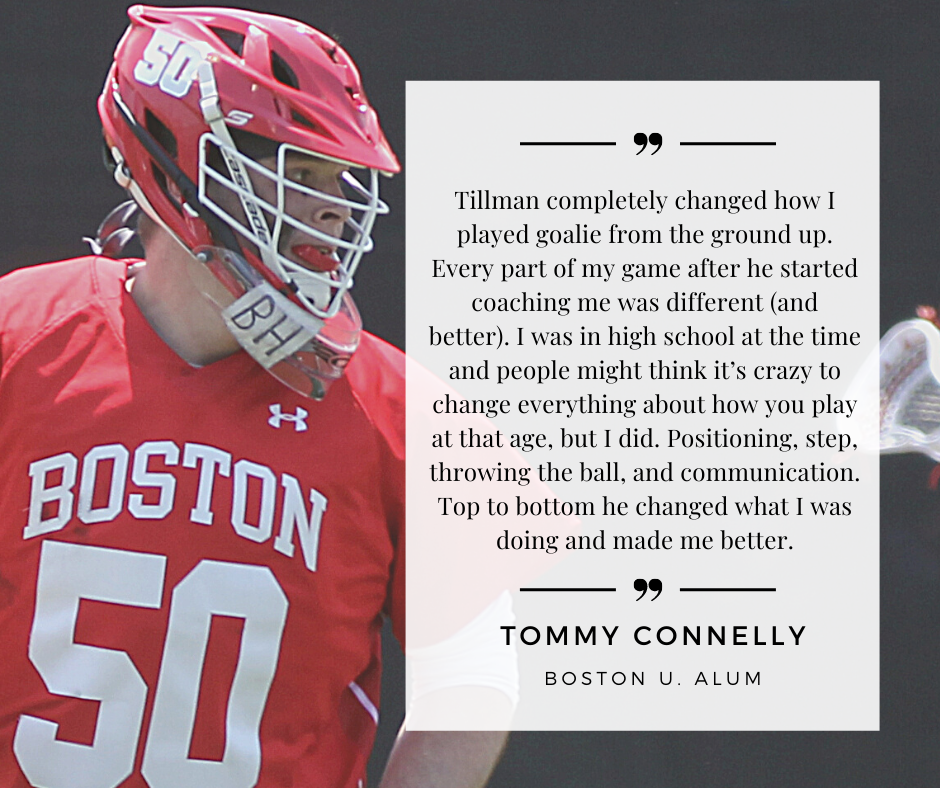 For the first time ever, Coach Tillman Johnson is putting on a virtual mini-camp to teach you his fundamentals.
This is your chance to learn from one of the all time greats in the lacrosse goalie world.
You'll learn the same fundamentals that helped him win 2003 goalie of the year and the same fundamentals he teaches all his young goalie students.
Tillman Johnson 2-Day Virtual Mini-Camp:
2 virtual goalie coaching sessions from Tillman w/ Q&A
Recordings available to rewatch anytime
Oops, looks like live sessions already happened. Can I still buy the mini-camp?
Yes, absolutely. You'll get immediate access to the replays plus Tillman's slide deck and videos. If you have a burning question for Tillman, hit me up (damon@laxgoalierat.com) and I'll make sure to get it answered for you. 
Details:
Replay videos of the Live virtual training sessions originally conducted via Zoom

Lifetime access - watch anytime and anywhere. You can even download to take on the go. 
Q&A with Tillman at the end of each session
Includes access to Tillman's slide deck with images and videos
Learn the following:
Tillman Johnson's Pyramid of Success
Fundamental Technique for each type of save
1 Vs 1 - How to Make Those Game Changing Saves
Clearing Techniques to Clear with Confidence
Communication to Lead Your Defense
Big Eyes - Tillman's Special Technique For Intense Focus
Pre-game Preparation and Getting in the Zone
Tillman's Drills to further develop your Muscle Memory
Pipe to Pipe Play
Playing the Ball Behind
Rebound Control
Benefitting the National Multiple Sclerosis Society

In 2006, Tillman's sister was diagnosed with MS. He's seen first hand the mental and physical pain caused by the disease and helping others fight MS is a cause near and dear to his heart.
1/2 of all proceeds raised from the Tillman Johnson goalie coaching mini-camp will be donated to the National Multiple Sclerosis Society.
If you'd like to make an additional donation to the National MS Society, you can do that when you purchase the Tillman Johnson Mini-camp using this box:
100% of this amount will be donated directly to the National MS Society.
How to get access to the Tillman Johnson Mini-Camp:
For the first time ever Tillman is lifting up the hood to share his trade secrets on what makes a great lacrosse goalie.
These are the same tried and true methods that worked for him and have worked for the goalies he coached playing at the highest levels.
Access and knowledge like this is valuable stuff and is easily worth $400-500 to attend.
But if you know me, we want to get as many goalies into this training as possible...
Tillman Johnson 2 Day Virtual Mini-Camp - Just $49
Click here to get access the Tillman Johnson Mini-Camp
Remember, 1/2 of the proceeds go to the National MS Society! 
Ticket Includes:
Access to replays of the live coaching sessions with Tillman Johnson
Q&A with Tillman
Video replays to watch recordings anytime/anywhere
Access to Tillman Powerpoint and videos

After you buy you'll receive an email with all the details you need access the replays and Tillman's PPT and videos. 
If you cannot afford $49 and want to apply for a scholarship, email: damon@laxgoalierat.com with the subject = Tillman Scholarship and give me your pitch on why you deserve a scholarship.
Also if you can sponsor some goalies to attend, email me: damon@laxgoalierat.com
Special deal for the Lax Goalie Rat Training Academy

Once you purchase the Tillman Johnson Mini-Camp you'll have the opportunity to join the Lax Goalie Rat Academy for just $40/month.
Half of the proceeds of these Academy subscriptions will also be donated to the MS Foundation. 
The Lax Goalie Rat Academy gives you access to these training videos: 
The Goalie Summit 1 & 2 replays - 27 coaching sessions including: 

Bottom Hand Save Technique with Ted Bergman
Playing the Ball at X with Sean Quirk
Defending the 8 Meter with Gussie Johns
Succeeding as a College Goalie with Tate Boyce
My Approach to Goalie Training with Alex Ready
The Bring It Mindset with Chris Buck
Mastering Your Mind with Lyndsey Munoz
The Reset Routine with Jack Starr (Yale Goalie)
Plus tons more…

Goalie head stick stringing tutorials from different stick stringing experts
Technical breakdowns and drills from Coach Damon
Mental game coaching from Coach Damon
General lacrosse IQ building concepts like team defense, man down D, 3x2's, etc. 
50+ lacrosse goalie drills for different techniques and scenarios
Save breakdown analysis from Coach Damon (send your videos to Coach Damon and we'll provide feedback)
Private forums to interact with Coach Damon and other goalies. 
Cancel any time.
This training has the power to take your goalie's game to a whole new level! That's not hyperbole — that's based on results Tillman Johnson has gotten coaching goalies. 
Now Tillman is giving us the Lax Goalie Rat community the opportunity to get this elite level lacrosse goalie coaching!
But if you feel like you don't get value from the training, email Team Lax Goalie Rat (help@laxgoalierat.com) within 30 days and we'll give you a refund.
The best part is this:
If you think there's even a 'slight chance' the Tillman Johnson 2-Day Virtual Lacrosse Goalie Coaching Mini-Camp could help out your goalie, you should join!
No guess work needed. Take the training, see for yourself.
And if it works, your goalie will never be the same.
Your goalie will be able to confidently walk onto the field for practice or games, knowing they've taken training from the best college goalies in the game!
Tillman is working his tail off to put together an amazing training session. He stands behind his work. 
So that's why we're happy to offer a 30-day money back guarantee. It's really a no-brainer.

Hope to see you on the inside!